AFFORDABLE

PRICES

FRIENDLY

& TIDY

WORK

GUARANTEED

LATEST

TECHNOLOGY

IS THE WOODEN FLOOR IN YOUR CHARLTON PROPERTY STARTING TO LOOK TIRED OUT, BATTERED AND BLAND?
Is the formerly healthy and shining hardwood now seemingly lost forever beneath layers of grime and unsightly stains? Give it a new lease of life and upgrade your home or office by getting in touch with the top wood flooring experts in Charlton SE7 today.

The Charlton floor sanding team are experts at bringing wooden floors in Charlton back to life with a friendly local service – and what's more, we enjoy doing it too! With two decades of restoring and maintaining Charlton's wooden flooring using the latest dust-free industrial standard equipment, we take justifiable pride in making even the most worn out wooden floor shine again as it did in its prime. We also use only eco-friendly finishes and stains and will not introduce toxins in any shape or form into your property.
OUR COMMITMENT TO YOU
​There's no need to take our word for all this. At the Charlton floor sanding company we are always ensuring that we're at the cutting edge of this industry and constantly improving our level of service to customers. We are:
​· Members of the National Wood Flooring Association
· Members of the Federation of Small Businesses
· Members of the Guild of Master Craftsmen
· A Junckers Approved Maintenance Contractor
​On top of that, we carry no less than £5 million of insurance to give you absolute peace of mind. Take a look through some of our customer Testimonials and see what our Charlton clients are thinking about our standard of work and customer care.
​ALL JOBS UNDERTAKEN
​We can help you whatever the size of the job you need doing. It could be anything from a simple landing to a full renovation project for a grand ballroom. Our team of Charlton floor sanding and renovation experts is here to give you what you want at a reasonable cost. Start the process now with a free on-site consultation and when it's all finished you get a free cleaning kit so you can keep your new floor looking its very best.
To find out more about wood floor services in Charlton, continue browsing our site or get in touch with us.
LATEST NEWS, RECOMMENDED ARTICLES & TIPS
Five things to think about before floor sanding and finishing
When it comes to sanding and finishing your wood floor, you want to get the very best end result within your budget. That might mean taking the time to do it yourself for one or two rooms, but for an entire property hiring a professional sanding company might make better economic sense. Here are five crucial things to think about before you hire a floor sanding professional.

Choose carefully
Ask friends, family and colleagues for recommendations, research websites looking for testimonials, any evidence of previous projects and membership of professional bodies. No-one wants their floorboards wrecking by an inexperienced workman, who you're paying to do a professional job, so please choose carefully.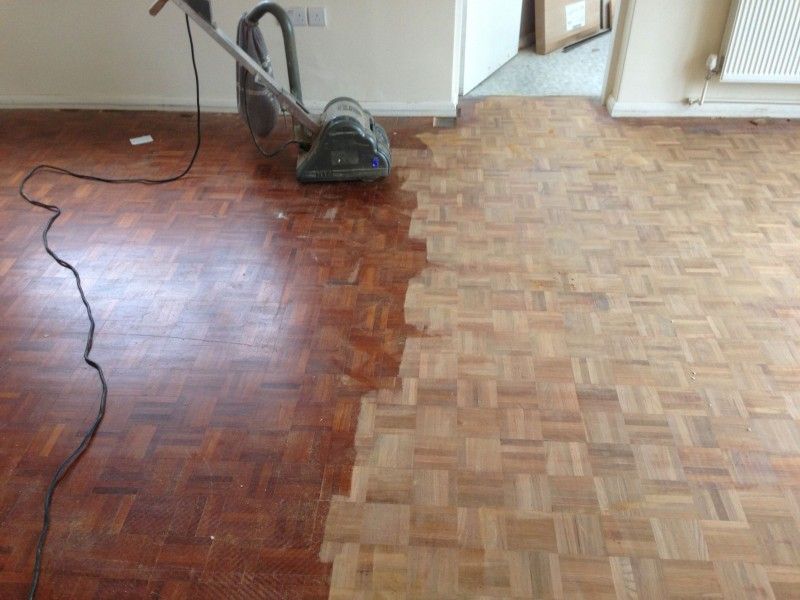 Screen or sand?
Depending on the level of damage, your floor may only need screening and finishing. This involves lightly sanding the existing finish before reapplying a polyurethane finishing coat. You won't be able to change the existing look of your floors, but if you're happy with them the way they are then this is a cost-effective way to bring them back to their best.

Prep the room
Your floor sanding company will of course screen off each room and use dust-free floor sanding equipment to minimise the dust, but you should consider removing the skirting board in each room. Why? Unless your skirting boards badly need repainting, they are likely to get dinged and stained with polyurethane and will, therefore, need redecorating. Save yourself a job by removing them before floor sanding - it's an easy job to do yourself and creates a very professional finish as the sanding equipment can then get to the very edge of the room.


Consider colour
Floor sanding is designed to strip your hardwood floorboards back to the bare wood, that can be an issue if you're particularly attached to the way they currently look. Any stain will be removed and your flooring will look much lighter, meaning you'll need to add the cost of floor staining to your budget. Of course, you can also use the opportunity to have a complete overhaul of the way your floors look, but again you'll need to budget for whitewashing, or grey or dark chocolate stains.

Move out
One of the big issues that face DIYers is the length of time it takes for a floor to cure properly so that the polyurethane finish is as resistant and hard-wearing as possible. If you're having your floors professionally sanded and refinished then consider staying with friends or family for a week until the job is completed.
For Captivating Wooden Floors Call 020 3151 7953 Now
Before & After